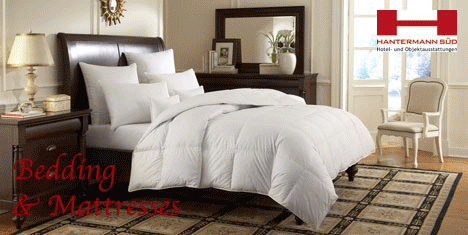 Hotelausstatter, Hoteleinrichter, Gastronomieeinrichter, Boxspringbetten, Hotelbetten, hochwertige Hotelmatratzen,
Contact Information
SHOP: Hotelbetten, Hotelmatratzen, Hotelwäsche, Hotelausstattung ONLINE KAUFEN (Main Contact)
INNOVATION: Magic Choice -- Auf Knopfdruck besser schlafen - iGR zertifiziert (Main Contact)
INNOVATION: LiftBed -- 60% Gewinn in 20 Sekunden
Address




Hantermann - Der Hotelausstatter GmbH & Co. KG




Lindigstraße 10




Kleinostheim




D-63801




Deutschland


Produkte, die Gäste verwöhnen
Angebote
www.hantermann.com/angebote
No restrictions specified
-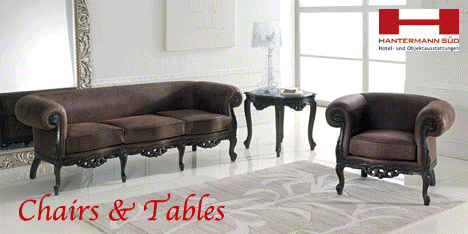 Profile

Products and Services
Hochwertige Matratzen, Boxspringbetten, Hotelzimmermöbel, Stühle, Tische f. Catering, Bankett, Restaurant, Frühstücksraum, etc. Hotelwäsche: Tischwäsche, Frottierware, Produkte aus Tencel, GOTS-zertifizierter K.b.a. Baumwolle, Evolon
Areas of Service
Deutschland, Österreich, Schweiz, Frankreich, USA
Opening Hours
MO - FR 8:30 - 17:00 h
SA + SO nach Vereinbarung
Associations
H./G./K. - Zertifizierter Lieferant
hogast partner
Biography
Wir verfügen über 35+ Jahre Erfahrung mit Boxspringbetten. Der Name "Hantermann" steht seit über 60 Jahren für Service, Qualität und Individualisierung in Gastronomie und Hotellerie.

More Information

Finden Sie: - Hantermann Hotelmatratzen - Hantermann Boxspringbetten - Hantermann Hotelbetten - Hantermann Stühle - Hantermann Hotelwäsche - Hantermann Textilien Unsere Marken: - LYONSPA® - Fugenlose Designbäder - LYONBED® - Exklusive Boxspringbetten und Matratzen - DIAMOND HILLS® - Exklusive Boxspringbetten und Matratzen - MAGIC CHOICE® - Matratzen mit verstellbarem Härtegrad - LIFTBED® - The Push Button Suite – Zwei Räume in einem - GOTS- und Fairtrade-Textilien - INTERA® & METALEN® - Professionelle Bankettmöbel In dieser Woche sind wir für Sie in Hessen
mobil unterwegs. Öffnungszeiten: MO - FR 8:30 - 17:00 und nach Vereinbarung: Mehr Reichweite, mehr begeisterte Gäst, höherer Gewinn.